512
Downloads of v 0.5.0.20170419
Gobby is a free collaborative editor. This means that it provides you with the possibility to edit files simultaneously with other users over a network. The platforms on which you could use Gobby are so far Microsoft Windows, Linux, Mac OS X and other Unix-like ones. Developed with the GTK+ toolkit it integrates nicely into the GNOME desktop environment if you want it to.
Features
Realtime collaboration through encrypted connections (including PFS)
Each user has its own colour to be identified by others
Local group Undo
Group chat
Shows cursors and selections of remote users
Sidebar with all the others having joined the session
Syntax highlighting, auto indentation, configurable tab
width
Multiple documents in one session
Zeroconf support (optional)
Unicode support
Internationalisation
Highly configurable dedicated server
Sophisticated Access Control Lists (ACLs)
Cross-platform: Microsoft Windows, Linux, Mac OS X, other flavours of Unix
Free software, licenced under the terms of the ISC license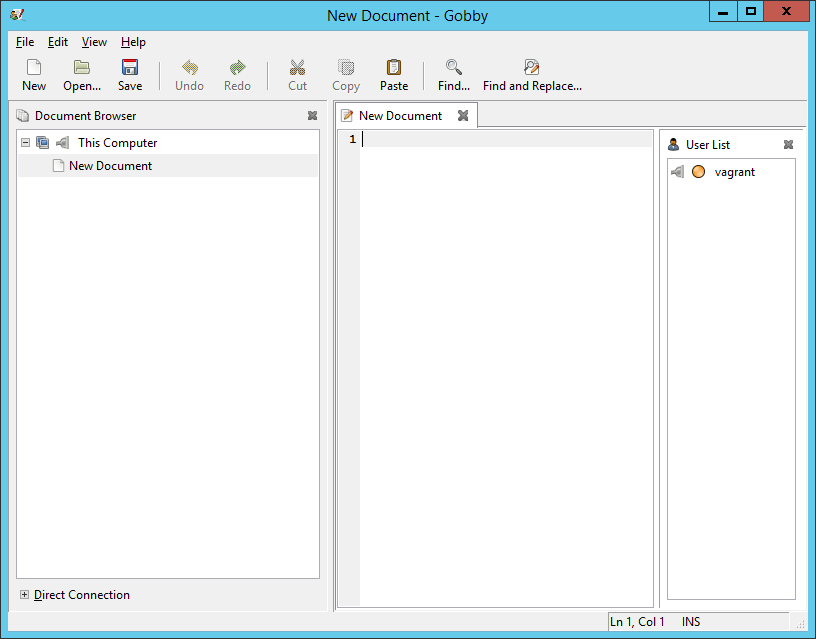 To install Gobby, run the following command from the command line or from PowerShell:
To upgrade Gobby, run the following command from the command line or from PowerShell:
Files
Hide
Virus Scan Results
Dependencies
Package Maintainer(s)
Software Author(s)
Copyright
Copyright © 2008-2014 Armin Burgmeier
Tags
Release Notes
https://github.com/gobby/gobby/blob/master/NEWS
Version History
| Version | Downloads | Last updated | Status |
| --- | --- | --- | --- |
| Gobby 0.5.0.20170419 | 512 | Wednesday, April 19, 2017 | approved |
| Gobby 0.5.0 | 270 | Saturday, October 8, 2016 | approved |
Discussion for the Gobby Package
Ground rules:

This discussion is only about Gobby and the Gobby package. If you have feedback for Chocolatey, please contact the google group.
This discussion will carry over multiple versions. If you have a comment about a particular version, please note that in your comments.
The maintainers of this Chocolatey Package will be notified about new comments that are posted to this Disqus thread, however, it is NOT a guarantee that you will get a response. If you do not hear back from the maintainers after posting a message below, please follow up by using the link on the left side of this page or follow this link to contact maintainers. If you still hear nothing back, please follow the package triage process.
Tell us what you love about the package or Gobby, or tell us what needs improvement.
Share your experiences with the package, or extra configuration or gotchas that you've found.
If you use a url, the comment will be flagged for moderation until you've been whitelisted. Disqus moderated comments are approved on a weekly schedule if not sooner. It could take between 1-5 days for your comment to show up.
comments powered by

Disqus