3,967
Downloads of v 2.0.3
KeePassX saves many different information e.g. user names, passwords, urls, attachments and comments in one single database. For a better management user-defined titles and icons can be specified for each single entry. Furthermore the entries are sorted in groups, which are customizable as well.
Originally KeePassX was called KeePass/L for Linux since it was a port of Windows password manager Keepass Password Safe. After KeePass/L became a cross platform application the name was not appropriate anymore and therefore, on 22 March 2006 it has been changed.
Notes
Do not save keypass database in chocolatey tools folder, it may be removed during upgrade.
Features
Extensive management




title for each entry for its better identification


possibility to determine different expiration dates


insertion of attachments


user-defined symbols for groups and entries


fast entry dublication


sorting entries in groups



Search function




search either in specific groups or complete database



Autofill (experimental)
Database security




access to the KeePassX database is granted either with a password, a key-file (e.g. a CD or a memory-stick) or even both.



Automatic generation of secure passwords




extremly customizable password generator for fast and easy creation of secure passwords



Precaution features




quality indicator for chosen passwords


hiding all passwords behind asterisks



Encryption




either the Advanced Encryption Standard (AES) or the Twofish algorithm are used


encryption of the database in 256 bit sized increments



Import and export of entries




import from PwManager (.pwm) and KWallet (.xml) files


export as textfile (*.txt)



Operating system independent




KeePassX is cross platform, so are the databases as well



Free software
KeePassX is free software, published under the terms of the General Public License, so you are not only free to use it free of charge, but also to redistribute it, to examine and/or modify it's source code and to publish your modifications as long as you provide the same freedoms for your modified version.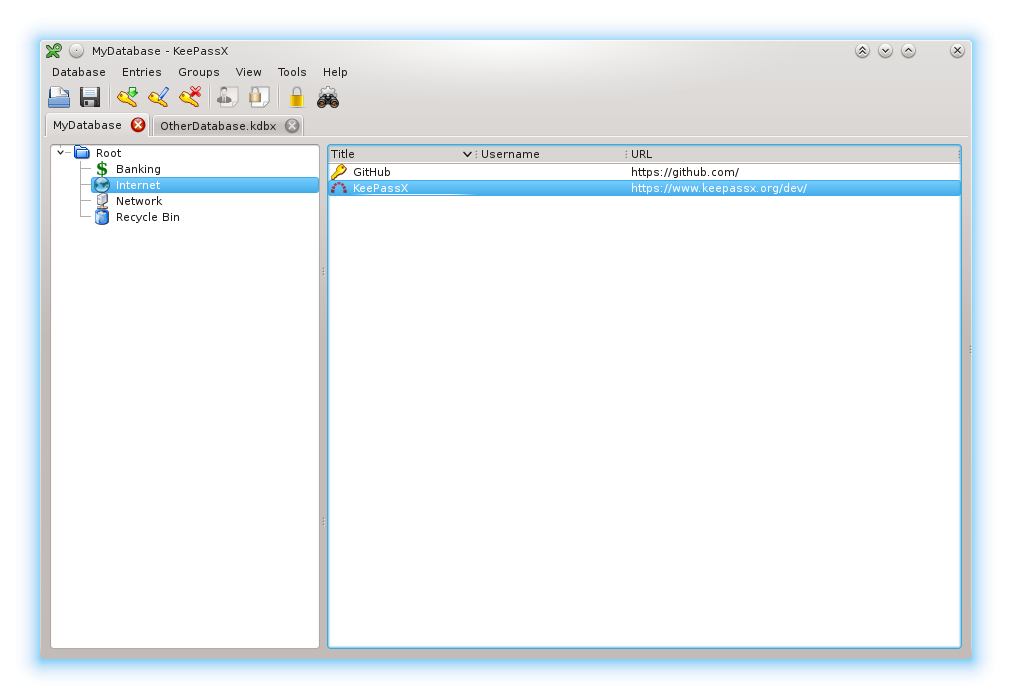 More Screenshots here
To install KeePassX Password Manager, run the following command from the command line or from PowerShell:
C:\> choco install keepassx
To upgrade KeePassX Password Manager, run the following command from the command line or from PowerShell:
C:\> choco upgrade keepassx
Files
Hide
Virus Scan Results
Dependencies
This package has no dependencies.
Package Maintainer(s)
Software Author(s)
Copyright
KeePassX Team 2005 - 2017
Tags
Release Notes
https://www.keepassx.org/changelog
Version History
Show More
Discussion for the KeePassX Password Manager Package
Ground rules:

This discussion is only about KeePassX Password Manager and the KeePassX Password Manager package. If you have feedback for Chocolatey, please contact the google group.
This discussion will carry over multiple versions. If you have a comment about a particular version, please note that in your comments.
The maintainers of this Chocolatey Package will be notified about new comments that are posted to this Disqus thread, however, it is NOT a guarantee that you will get a response. If you do not hear back from the maintainers after posting a message below, please follow up by using the link on the left side of this page or follow this link to contact maintainers. If you still hear nothing back, please follow the package triage process.
Tell us what you love about the package or KeePassX Password Manager, or tell us what needs improvement.
Share your experiences with the package, or extra configuration or gotchas that you've found.
If you use a url, the comment will be flagged for moderation until you've been whitelisted. Disqus moderated comments are approved on a weekly schedule if not sooner. It could take between 1-5 days for your comment to show up.
comments powered by

Disqus