Mixxx is free DJ software for Windows, Mac OS X and Linux. It's easy to use so you can start mixing your favorite songs in no time, even if you've never DJed before. Mixxx offers a variety of features for experienced DJs and beginners alike, such as automatic beat and key detection, master sync, hotcues, looping, 4 decks, effects and many more. You can perform with Mixxx using MIDI and HID controllers, CD players, vinyl turntables or even just your computer's keyboard and mouse.
Features
Four Decks, Advanced Controls




Time Stretch and Vinyl Emulation


Beat Looping


Powerful Master Sync


Hotcues


Beat Rolls and Censor


Intuitive Pitchbend


Broad Format Support


EQ and Crossfader Control


Built-in Effects



Organization




Crates and PlaylistsFree Timecode Vinyl Control


Disk Browsing


iTunes and Traktor Library Integration


MusicBrainz Tag Lookup



BPM Detection and Sync
Auto DJ
Record and Broadcast




Recording


Live Broadcasting


ReplayGain Normalization


Quad Microphone Input



DJ Controller Support
Free Timecode Vinyl Control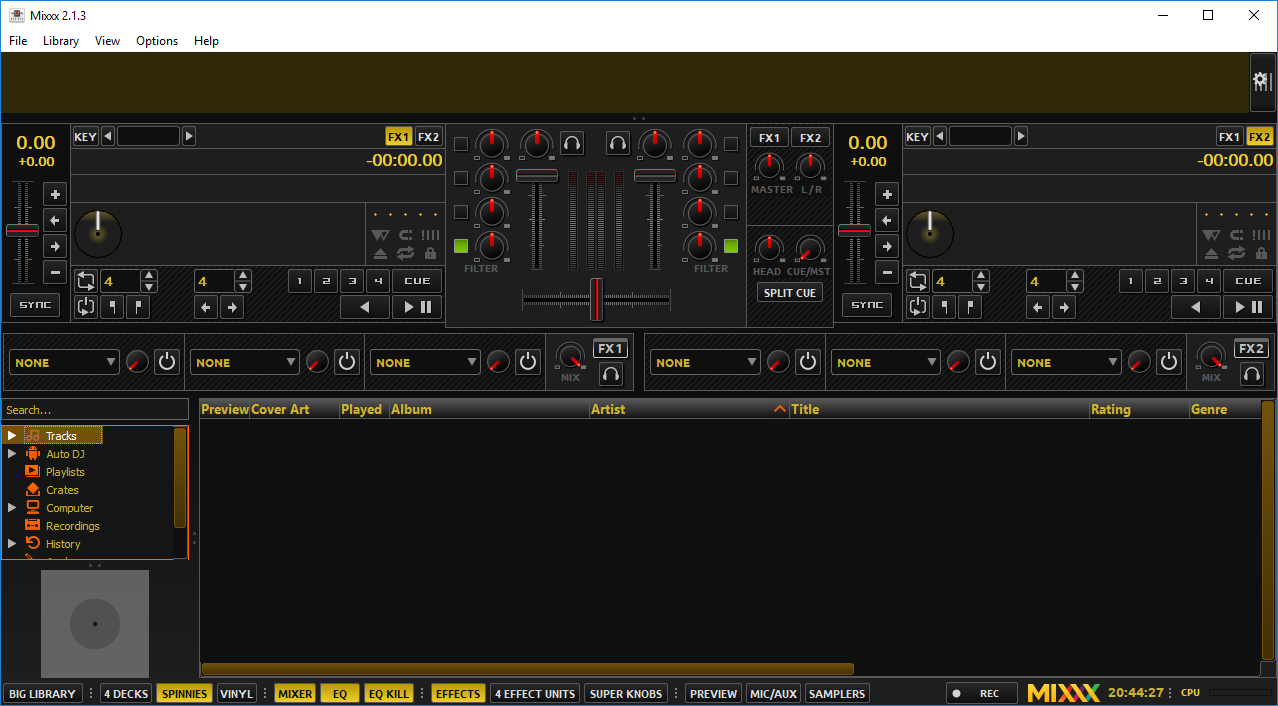 To install Mixxx, run the following command from the command line or from PowerShell:
To upgrade Mixxx, run the following command from the command line or from PowerShell:
Files
Hide
Virus Scan Results
Dependencies
Package Maintainer(s)
Software Author(s)
Tags
Release Notes
Version History
| Version | Downloads | Last updated | Status |
| --- | --- | --- | --- |
| Mixxx 2.1.4 | 738 | Tuesday, September 11, 2018 | approved |
| Mixxx 2.1.3 | 216 | Monday, September 3, 2018 | approved |
| Mixxx 2.1.0-rc1 | 88 | Monday, April 9, 2018 | exempted |
| Mixxx 2.0.0.20180111 | 384 | Thursday, January 11, 2018 | approved |
| Mixxx 2.0.0.20161110 | 504 | Thursday, November 10, 2016 | approved |
| Mixxx 2.0.0 | 355 | Wednesday, December 30, 2015 | approved |
| Mixxx 1.11.0 | 586 | Friday, May 10, 2013 | |
| Mixxx 1.10.1 | 305 | Saturday, April 27, 2013 | |
Show More
Discussion for the Mixxx Package
Ground rules:

This discussion is only about Mixxx and the Mixxx package. If you have feedback for Chocolatey, please contact the google group.
This discussion will carry over multiple versions. If you have a comment about a particular version, please note that in your comments.
The maintainers of this Chocolatey Package will be notified about new comments that are posted to this Disqus thread, however, it is NOT a guarantee that you will get a response. If you do not hear back from the maintainers after posting a message below, please follow up by using the link on the left side of this page or follow this link to contact maintainers. If you still hear nothing back, please follow the package triage process.
Tell us what you love about the package or Mixxx, or tell us what needs improvement.
Share your experiences with the package, or extra configuration or gotchas that you've found.
If you use a url, the comment will be flagged for moderation until you've been whitelisted. Disqus moderated comments are approved on a weekly schedule if not sooner. It could take between 1-5 days for your comment to show up.
comments powered by

Disqus