489
Downloads of v 8.00.0.0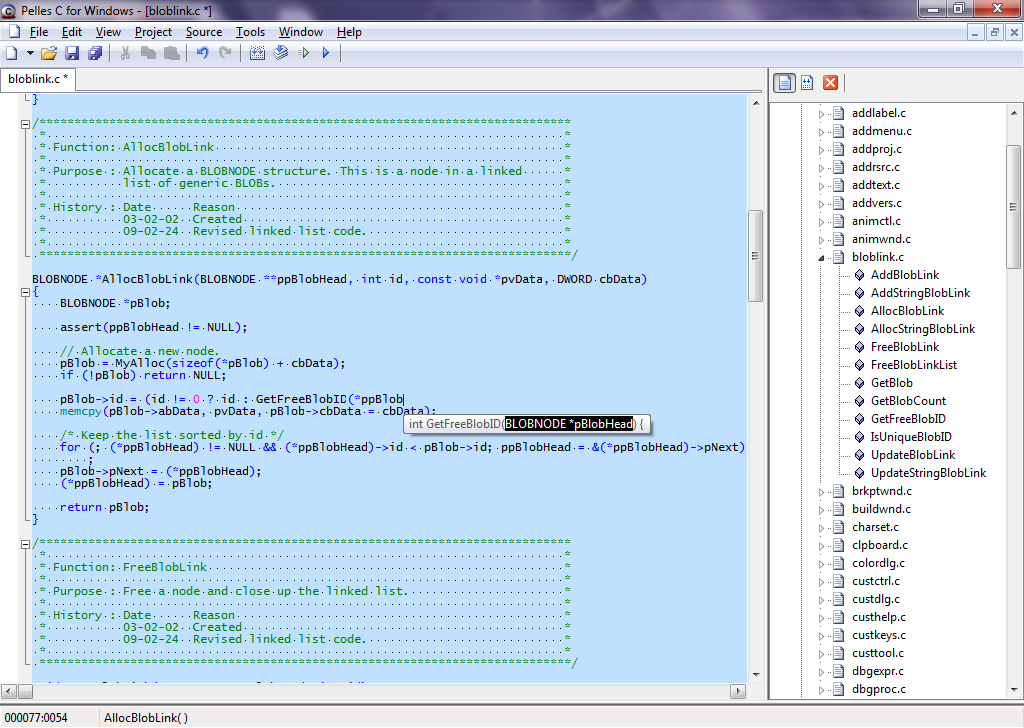 Pelles C is a complete development kit for Windows. It contains among other things an optimizing C compiler, a macro assembler, a linker, a resource compiler, a message compiler, a code signing utility, a make utility and an install builder.
It also contains an integrated development environment (IDE) with project management, debugger, profiler, source code editor, and resource editors for dialogs, menus, string tables, accelerator tables, bitmaps, icons, cursors, animated cursors, animation videos (AVI's without sound), versions and XP manifests.
The compiler is originally based on LCC (by Chris Fraser and David Hanson), but since then enhanced with support for C99 and C11, a global optimizer, a new register allocator, a function inliner, intrinsic functions, and many Microsoft C extensions.
The install builder for Windows is originally based on NSIS from Nullsoft.
Features:
Support for 32-bit Windows (X86) and 64-bit Windows (X64).
Support for the newer C standards C99 and C11.
Support for OpenMP version 3.1.
Support for most SSE, SSE2, SSE3, SSSE3, SSE4.1, SSE4.2, AES, AVX, and AVX2 intrinsics (X64 only).
Integrated source code editor with call tips and symbol browsing.
Integrated source-level debugger.
Integrated sampling profiler.
Project management.
Inline assembler for X86 (not X64, since intrinsics are better).
Integrated resource editor.
Integrated bitmap, icon and cursor editor.
Integrated animated cursor and video editor.
Integrated hex-dump editor.
Support for custom controls in the dialog editor.
Support for custom project wizards.
Pelles C is freeware.
To install Pelles C (Install), run the following command from the command line or from PowerShell:
C:\> choco install pelles-c
To upgrade Pelles C (Install), run the following command from the command line or from PowerShell:
C:\> choco upgrade pelles-c
Files
Hide
Virus Scan Results
Dependencies
Package Maintainer(s)
Software Author(s)
Copyright
Copyright © Pelle Orinius 1999-2015
Tags
Version History
| Version | Downloads | Last updated | Status |
| --- | --- | --- | --- |
| Pelles C (Install) 8.00.0.0 | 489 | Sunday, April 30, 2017 | approved |
Discussion for the Pelles C (Install) Package
Ground rules:

This discussion is only about Pelles C (Install) and the Pelles C (Install) package. If you have feedback for Chocolatey, please contact the google group.
This discussion will carry over multiple versions. If you have a comment about a particular version, please note that in your comments.
The maintainers of this Chocolatey Package will be notified about new comments that are posted to this Disqus thread, however, it is NOT a guarantee that you will get a response. If you do not hear back from the maintainers after posting a message below, please follow up by using the link on the left side of this page or follow this link to contact maintainers. If you still hear nothing back, please follow the package triage process.
Tell us what you love about the package or Pelles C (Install), or tell us what needs improvement.
Share your experiences with the package, or extra configuration or gotchas that you've found.
If you use a url, the comment will be flagged for moderation until you've been whitelisted. Disqus moderated comments are approved on a weekly schedule if not sooner. It could take between 1-5 days for your comment to show up.
comments powered by

Disqus