800
Downloads of v 1.6.1402
O&O ShutUp10 means you have full control over which comfort functions under Windows 10 you wish to use, and you decide when the passing on of your data goes too far.
Using a very simple interface, you decide how Windows 10 should respect your privacy by deciding which unwanted functions should be deactivated.
O&O ShutUp10 is entirely free and does not have to be installed – it can be simply run directly and immediately on your PC. And it will not install or download retrospectively unwanted or unnecessary software, like so many other programs do these days!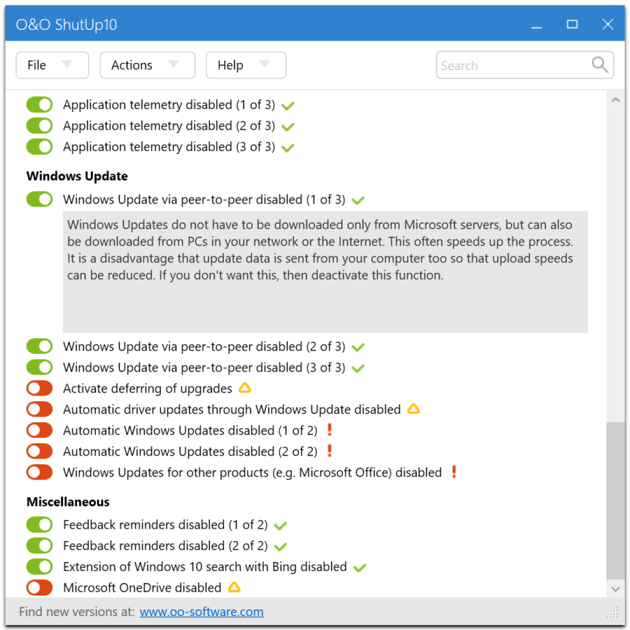 To install ShutUp10, run the following command from the command line or from PowerShell:
C:\> choco install shutup10
To upgrade ShutUp10, run the following command from the command line or from PowerShell:
C:\> choco upgrade shutup10
Files
Hide
legal\license.txt Show


Software license agreement (EULA) for O&O ShupUp10

IMPORTANT-PLEASE READ CAREFULLY: This License Agreement is a legal agreement between you (either AS a private individual or a legal personality) and the O&O Software GmbH for the Software identified above, which can include associated software components, media, printed materials, and online or electronic documentation. By installing, copying, or otherwise using the Software, you agree to be bound by the terms of this License Agreement. If you do not agree to the terms of this agreement, you may not install or use the Software. The software is protected by copyright laws and international copyright agreements, as well as other laws and treaties concerning intellectual property. The Software is licensed, not sold.

1. Grant of license
The Software Product is licensed as follows:
1.1 Installation and Use. O&O grants you the right to install and use copies of the Software on your computers. The software is in use when it is loaded into the temporary memory (i.e., RAM) or installed into the permanent memory (e.g., hard disk, CD ROM, etc.) of a computer for the purpose of being accessible to an end user.
1.2 Backup Copies. You may also make copies of the Software Product as may be necessary for backup and archival purposes.

2. Description of other rights and limitations
2.1 Maintenance of Copyright Notices. You must not remove or alter any copyright notices on all copies of the Software Product.
2.2 Distribution. You may make exact, unmodified copies of this Software Product and distribute such copies solely by electronic means for example, posting on Internet sites for others to download), subject to the following (a) that the software is distributed unmodified (wrapping or packaging the software with a so-called "Installer", "Wrapper" or similar constitutes a forbidden modification for the purposes of this contract) and in its entirety with its complete user documentation, readme files, copyright, trademark, and other indications protecting intellectual property including this license agreement, and all of its other components), and (b) that such transfer may occur anywhere in the world, except when prohibited by laws of the Federal Republic of Germany (directly or indirectly.)
2.3 Prohibition on Reverse Engineering, Decompilation, and Disassembly. You may not reverse engineer, decompile, or disassemble this software except and only to the extent that such activity is expressly permitted by applicable law notwithstanding this limitation.
2.4 Rental. You may not rent, lease, or lend the software.
2.5 Transfer. You may permanently transfer all of your rights under this License Agreement, provided the recipient agrees to the terms of this agreement.
2.6 Compliance with Applicable Laws. You must comply with all applicable laws regarding use of software.

3. Termination
Without prejudice to any other rights, O&O may terminate this License Agreement if you fail to comply with the terms and conditions of this agreement. In such event, you must destroy all copies of the software.

4. Copyright
All title to this software and any copies thereof, including but not limited to copyrights, are owned by O&O or its suppliers. All title concerning existing intellectual property being used on this software is property of its respective owner and may be protected by applicable copyright or other intellectual property laws and agreements. This License Agreement grants you no rights to use such content. All rights not expressly granted are reserved by O&O.

5. No warranties
O&O expressly disclaims any warranty for the software. The software and any related documentation is provided "as is" without warranty of any kind, either express or implied, including, without limitation, the implied warranties or merchantability, fitness for a particular purpose, or non-infringement. The entire risk arising out of use or performance of the software product remains with you.

6. Limitation of liablity
To the maximum extent permitted by applicable law, shall neither O&O nor its suppliers in any event be liable for any special, incidental, indirect, or consequential damages whatsoever (loss of business profits, business interruption, loss of business information, or any other pecuniary loss) arising out of the use of or inability to use the software or the provision of or failure to provide Support Services, even if O&O has been advised of the possibility of such damages. O&O's entire liability under any provision of this License Agreement shall be limited to the greater of the amount actually paid by you for the software or EURO 0.01; provided you have entered into a O&O Support Services Agreement whereby O&O's entire liability shall be governed by the terms of that agreement. Because some states and jurisdictions do not allow the exclusion or limitation of liability, the above limitation may not apply to you.

7. Final provisions
This License Agreement is governed by the laws of the Federal Republic of Germany. The uniform UN purchasing law (CISG) as well as the UNIDROIT Factoring Agreement of Ottawa do not apply. Any general terms and conditions on your part will not be applied. In the event you are not a private individual or a resident of the Federal Republic of Germany, we agree that the district court in Berlin will be the competent court for litigation arising from this contract.

8. Contact
If you have any questions concerning the O&O Software License Agreement or wish to speak with O&O, please get in touch with us.
O&O Software,
Am Borsigturm 48,
13507 Berlin, Germany
Tel. +49 (0)30 991 91 62 00
Fax +49 (0)30 991 91 62 99
E-Mail: [email protected]
Web: https://www.oo-software.com

Updated: 2016/03/09


legal\VERIFICATION.txt Show


VERIFICATION

Verification is intended to assist the Chocolatey moderators and community
in verifying that this package's contents are trustworthy.

Package can be verified like this:

1. Go to

   x32: https://dl5.oo-software.com/files/ooshutup10/OOSU10.exe

   to download the installer.

2. You can use one of the following methods to obtain the SHA256 checksum:
   - Use powershell function 'Get-FileHash'
   - Use Chocolatey utility 'checksum.exe'

   checksum32: DC6D59E27AC3353AED65A768F01F0681352B62B01EF63E7497E2C702760F47C1

Using AU:

   Get-RemoteChecksum https://dl5.oo-software.com/files/ooshutup10/OOSU10.exe

File 'license.txt' is obtained from:
   https://www.oo-software.com/en/shutup10/eula


tools\OOSU10.exe Show


md5: 6EA3F0BA52D8EF184722BA8991ADA726 | sha1: 324998851416297781FD5BBF36AEE52B04016EDB | sha256: DC6D59E27AC3353AED65A768F01F0681352B62B01EF63E7497E2C702760F47C1 | sha512: 4F79B78AFCF3C2E160FB224BD4F54F1E3B53927E79CC5E43095A889A1AF5D21F8CCC51BF3EFDCCE91130FDA64F3B27CE1E35B4008BB64BDD61DE4EB1C49CAD30
Virus Scan Results
Dependencies
This package has no dependencies.
Package Maintainer(s)
Software Author(s)
Copyright
O&OSoftware
Tags
Version History
| Version | Downloads | Last updated | Status |
| --- | --- | --- | --- |
| ShutUp10 1.6.1402 | 800 | Wednesday, May 8, 2019 | approved |
| ShutUp10 1.6.1401 | 2759 | Thursday, January 31, 2019 | approved |
| ShutUp10 1.6.1400 | 1600 | Wednesday, December 19, 2018 | approved |
| ShutUp10 1.6.1399 | 1926 | Friday, October 5, 2018 | approved |
| ShutUp10 1.6.1398 | 1925 | Tuesday, July 10, 2018 | approved |
| ShutUp10 1.6.1397 | 384 | Friday, July 6, 2018 | approved |
| ShutUp10 1.6.1396 | 1431 | Thursday, May 3, 2018 | approved |
| ShutUp10 1.6.1395 | 1753 | Thursday, December 21, 2017 | approved |
| ShutUp10 1.6.1394 | 831 | Thursday, November 9, 2017 | approved |
| ShutUp10 1.6.1393 | 250 | Wednesday, November 8, 2017 | approved |
| ShutUp10 1.5.1390 | 1302 | Wednesday, May 10, 2017 | approved |
| ShutUp10 1.5.1389 | 460 | Wednesday, April 12, 2017 | approved |
| ShutUp10 1.4.1388 | 358 | Wednesday, March 22, 2017 | approved |
| ShutUp10 1.4.1387 | 278 | Wednesday, March 8, 2017 | approved |
| ShutUp10 1.4.1386.20170225 | 280 | Saturday, February 25, 2017 | approved |
| ShutUp10 1.4.1386.1 | 381 | Tuesday, December 13, 2016 | approved |
| ShutUp10 1.4.1386 | 203 | Saturday, February 25, 2017 | approved |
| ShutUp10 1.4.1384.1 | 299 | Friday, November 4, 2016 | approved |
| ShutUp10 1.4.1383.1 | 245 | Thursday, October 27, 2016 | approved |
Show More
Discussion for the ShutUp10 Package
Ground rules:

This discussion is only about ShutUp10 and the ShutUp10 package. If you have feedback for Chocolatey, please contact the google group.
This discussion will carry over multiple versions. If you have a comment about a particular version, please note that in your comments.
The maintainers of this Chocolatey Package will be notified about new comments that are posted to this Disqus thread, however, it is NOT a guarantee that you will get a response. If you do not hear back from the maintainers after posting a message below, please follow up by using the link on the left side of this page or follow this link to contact maintainers. If you still hear nothing back, please follow the package triage process.
Tell us what you love about the package or ShutUp10, or tell us what needs improvement.
Share your experiences with the package, or extra configuration or gotchas that you've found.
If you use a url, the comment will be flagged for moderation until you've been whitelisted. Disqus moderated comments are approved on a weekly schedule if not sooner. It could take between 1-5 days for your comment to show up.
comments powered by

Disqus