321
Downloads of v 2014.10.12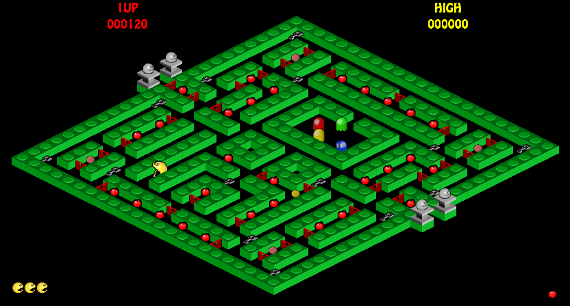 Suprepacman Isometric style
Created with Top-Down to Isometric Example by Fligamaflogamus 2011
This game is freeware, if you have been sold it then you have been ripped off.
more games at http://pjsfreeware.synthasite.com/
This game is Freeware
SUPER Pacman
written by PJ Crossley 2014
Gameplay summary
The player controls Pac-Man around the new item-filled maze with the Arrow keys
You must eat every item behind the locked gates, and must eat the keys in order to unlock the gates.
You must avoid contact with the ghosts while they are their normal color and Pac-Man is normal-sized. If they catch you, Pac-Man will lose a life.
If you eat an energizer, the ghosts will turn blue, and you will have the chance to eat them for bonus points until they return to their normal color.
If you eat a super energizer, Pac-Man will become very large, capable of using super speed and capable of crashing through gates without key.
The ghosts travel at half speed through the side escape tunnels, and beneath the ghost regenerator. They can also exhibit a "stutter" behavior.
A star will sometimes appear below the ghost regenerator. Try to eat it when the pictures on both sides of it match for up to 5000 bonus points.
In bonus rounds, Pac-Man remains super and must eat every item as quickly as possible before time runs out. There are no ghosts in these rounds.
Every 3 levels there is a bonus rounds. In these stages, Pac-Man is given a time limit in which to complete the entire stage without any interference from the ghosts. In a bonus stage, Pac-Man will start at his Super size and will remain this way until the end of the stage, and therefore have access to holding the Super Speed button the entire time. If the stage is completed before the timer runs out, the remainder of the time is awarded to the player in 100-point increments.
More free games at http://www.synthasite.com/home
To install Super Pacman (Portable), run the following command from the command line or from PowerShell:
C:\> choco install superpacman
To upgrade Super Pacman (Portable), run the following command from the command line or from PowerShell:
C:\> choco upgrade superpacman
Files
Hide
Virus Scan Results
Dependencies
This package has no dependencies.
Package Maintainer(s)
Software Author(s)
Copyright
PJ Crossley
Tags
Version History
| Version | Downloads | Last updated | Status |
| --- | --- | --- | --- |
| Super Pacman (Portable) 2014.10.12 | 321 | Friday, October 20, 2017 | approved |
Discussion for the Super Pacman (Portable) Package
Ground rules:

This discussion is only about Super Pacman (Portable) and the Super Pacman (Portable) package. If you have feedback for Chocolatey, please contact the google group.
This discussion will carry over multiple versions. If you have a comment about a particular version, please note that in your comments.
The maintainers of this Chocolatey Package will be notified about new comments that are posted to this Disqus thread, however, it is NOT a guarantee that you will get a response. If you do not hear back from the maintainers after posting a message below, please follow up by using the link on the left side of this page or follow this link to contact maintainers. If you still hear nothing back, please follow the package triage process.
Tell us what you love about the package or Super Pacman (Portable), or tell us what needs improvement.
Share your experiences with the package, or extra configuration or gotchas that you've found.
If you use a url, the comment will be flagged for moderation until you've been whitelisted. Disqus moderated comments are approved on a weekly schedule if not sooner. It could take between 1-5 days for your comment to show up.
comments powered by

Disqus