Welcome to the Chocolatey Community Package Repository! The packages found in this section of the site are provided, maintained, and moderated by the community.
Moderation
Every version of each package undergoes a rigorous moderation process before it goes live that typically includes:
More detail at Security and Moderation.
Organizational Use
If you are an organization using Chocolatey, we want your experience to be fully reliable. Due to the nature of this publicly offered repository, reliability cannot be guaranteed. Packages offered here are subject to distribution rights, which means they may need to reach out further to the internet to the official locations to download files at runtime.
Fortunately, distribution rights do not apply for internal use. With any edition of Chocolatey (including the free open source edition), you can host your own packages and cache or internalize existing community packages.
Disclaimer
Your use of the packages on this site means you understand they are not supported or guaranteed in any way. Learn more...
Downloads:
325
Downloads of v 1.2.6:
84
Last Update:
07 Mar 2020
Package Maintainer(s):
Software Author(s):
Tags:
java
javascript
javascript-react
python
sql
typescript
typescript-react
vscode-intellicode
vscode
microsoft
Software Specific:
Package Specific:
IntelliCode VSCode Extension
Software Specific:
Package Specific:
Software Author(s):
Edit Package
To edit the metadata for a package, please upload an updated version of the package.
Chocolatey's Community Package Repository currently does not allow updating package metadata on the website. This helps ensure that the package itself (and the source used to build the package) remains the one true source of package metadata.
This does require that you increment the package version.
This Package Contains an Exempted Check
1 Test Passing and 1 Exempted Test
---
Validation Testing Passed
---
Verification Testing Exempt:
Requires VS Code installation
To install IntelliCode VSCode Extension, run the following command from the command line or from PowerShell:
To upgrade IntelliCode VSCode Extension, run the following command from the command line or from PowerShell:
To uninstall IntelliCode VSCode Extension, run the following command from the command line or from PowerShell:
Description
---
The Visual Studio IntelliCode extension provides AI-assisted development features for Python, TypeScript/JavaScript and Java developers in Visual Studio Code, with insights based on understanding your code context combined with machine learning.
This extension provides AI-assisted IntelliSense by showing recommended completion items for your code context at the top of the completions list.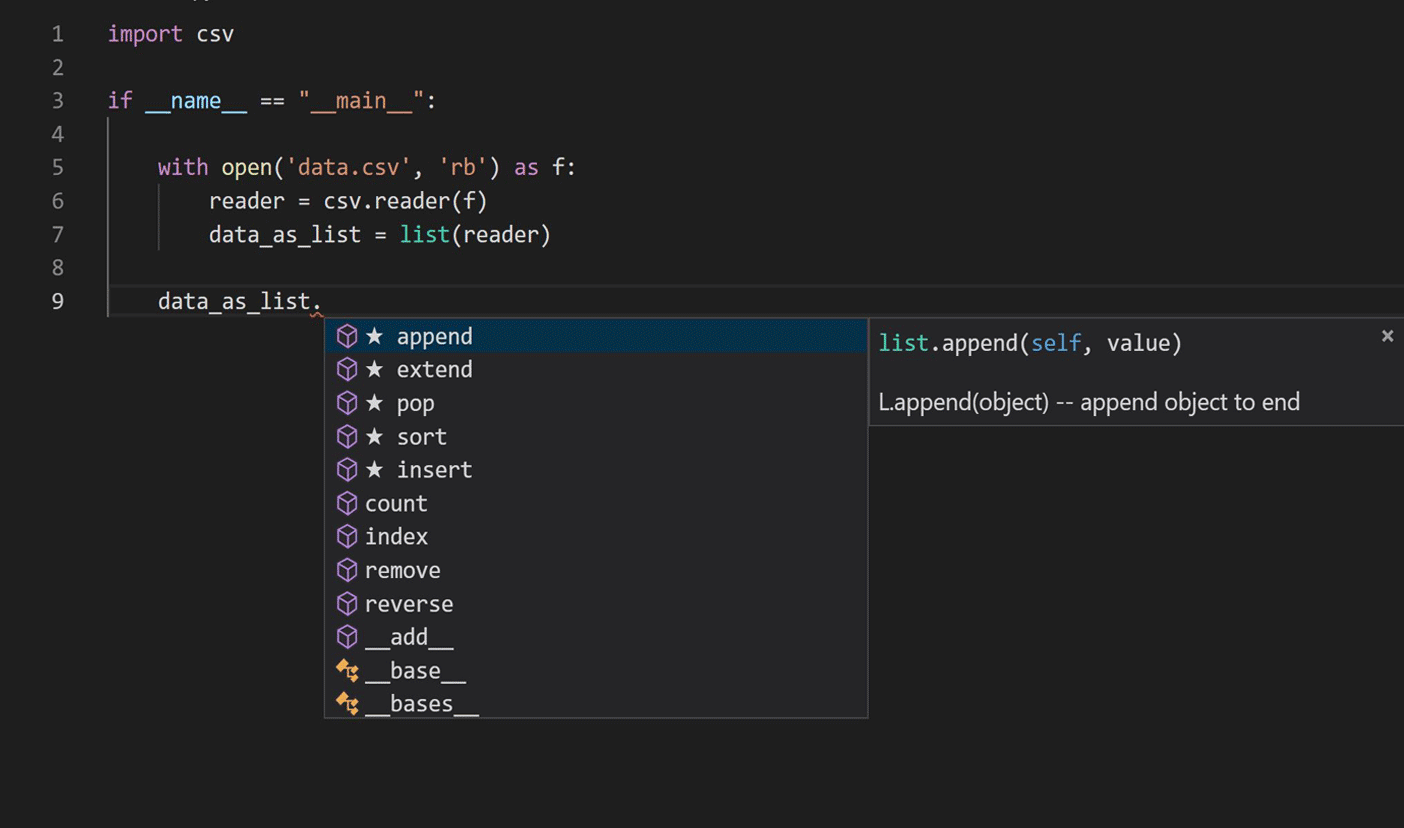 When it comes to overloads, rather than taking the time to cycle through the alphabetical list of member, IntelliCode presents the most relevant one first. In the example shown above, you can see that the predicted APIs that IntelliCode elevates appear in a new section of the list at the top with members prefixed by a star icon. Similarly, a member's signature or overloads shown in the IntelliSense tool-tip will have additional text marked by a small star icon and wording to explain the recommended status. This visual experience for members in the list and the tool-tip that IntelliCode provides is not intended as final – it is intended to provide you with a visual differentiation for feedback purposes only.
Contextual recommendations are based on practices developed in thousands of high quality, open-source projects on GitHub each with high star ratings. This means you get context-aware code completions, tool-tips, and signature help rather than alphabetical or most-recently-used lists. By predicting the most likely member in the list based on your coding context, AI-assisted IntelliSense stops you having to hunt through the list yourself.
Notes
This package requires Visual Studio Code 1.29.1 or newer.
You can install either the vscode or vscode-insiders package.
The extension will be installed in all editions of Visual Studio Code which can be found.
While this package installs a specific version of the extension, Visual Studio Code by default will update the extension to the latest version on startup if there's a newer version available on the marketplace.
See Extension auto-update for instructions on how to disable auto-update.
This package is automatically updated using the Chocolatey Automatic Package Update Model (AU).
If you find it is out of date by more than a day or two, please contact the maintainer(s) and let them know the package is no longer updating correctly.
Files
---
tools\chocolateyinstall.ps1
$ErrorActionPreference = 'Stop'

Install-VsCodeExtension -extensionId '[email protected]'

tools\chocolateyuninstall.ps1
$ErrorActionPreference = 'Stop'

Uninstall-VsCodeExtension -extensionId 'VisualStudioExptTeam.vscodeintellicode'

Virus Scan Results
---
Log in or click on link to see number of positives.
In cases where actual malware is found, the packages are subject to removal. Software sometimes has false positives. Moderators do not necessarily validate the safety of the underlying software, only that a package retrieves software from the official distribution point and/or validate embedded software against official distribution point (where distribution rights allow redistribution).
Chocolatey Pro provides runtime protection from possible malware.
Version History
| Version | Downloads | Last Updated | Status |
| --- | --- | --- | --- |
| IntelliCode VSCode Extension 1.2.6 | 84 | Saturday, March 7, 2020 | Approved |
| IntelliCode VSCode Extension 1.2.5 | 90 | Thursday, February 6, 2020 | Approved |
| IntelliCode VSCode Extension 1.2.4 | 45 | Friday, January 17, 2020 | Approved |
| IntelliCode VSCode Extension 1.2.3 | 17 | Saturday, January 11, 2020 | Approved |
| IntelliCode VSCode Extension 1.2.2 | 33 | Friday, December 20, 2019 | Approved |
| IntelliCode VSCode Extension 1.2.0 | 56 | Saturday, November 23, 2019 | Approved |
Discussion for the IntelliCode VSCode Extension Package
---
Ground Rules:
This discussion is only about IntelliCode VSCode Extension and the IntelliCode VSCode Extension package. If you have feedback for Chocolatey, please contact the Google Group.
This discussion will carry over multiple versions. If you have a comment about a particular version, please note that in your comments.
The maintainers of this Chocolatey Package will be notified about new comments that are posted to this Disqus thread, however, it is NOT a guarantee that you will get a response. If you do not hear back from the maintainers after posting a message below, please follow up by using the link on the left side of this page or follow this link to contact maintainers. If you still hear nothing back, please follow the package triage process.
Tell us what you love about the package or IntelliCode VSCode Extension, or tell us what needs improvement.
Share your experiences with the package, or extra configuration or gotchas that you've found.
If you use a url, the comment will be flagged for moderation until you've been whitelisted. Disqus moderated comments are approved on a weekly schedule if not sooner. It could take between 1-5 days for your comment to show up.
comments powered by

Disqus