259
Downloads of v 2011.09.19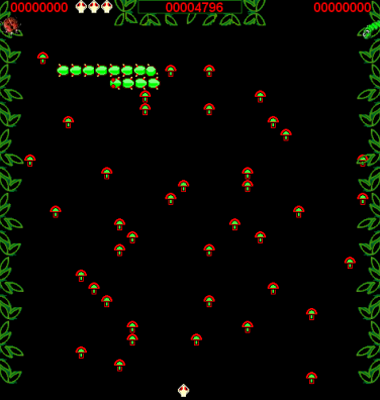 **** Centipede Another classic game from atari. *****
This game is freeware
Centipede (c) PJ Crossley MMDCCLXIV
The Centipedes - consist of one or more attached segments which move horizontally through the playfield, moving one tile vertically when they hit the side of the screen, or a mushroom. Shoot a segment, and it will turn into a mushroom. If a centipede is split in half in this fashion, the segment behind the shot will form a head and you'll have two smaller centipedes to contend with.
Mushrooms - harmless to the touch, but take four shots to destroy. The player and centipedes can't move through them.
Poison mushrooms - These don't kill anything. But, when a centipede hits a poison mushroom, they go straight down until they hit the bottom of the screen.
Spiders - they come in from the side and scurry around the bottom half of the screen really fast, making wibbledy-wibbledy sounds.
Scorpions - they crawl through the top half of the screen and change mushrooms into poison mushrooms.
Fleas - they occasionally drop through the screen, leaving a trail of mushrooms.
Scoring:
extra life every 12000 points
Body segments 10pts
Head 100pts
Spider 300pts
Flea 200pts
Scorpian 1000pts
Controls:
Arrow keys to move
Ctrl to fire
You can also use the mouse to play set from startup page
GM7
To install Centipede (Portable), run the following command from the command line or from PowerShell:
C:\> choco install centipede
To upgrade Centipede (Portable), run the following command from the command line or from PowerShell:
C:\> choco upgrade centipede
Files
Hide
Virus Scan Results
Dependencies
This package has no dependencies.
Package Maintainer(s)
Software Author(s)
Copyright
PJ Crossley
Tags
Version History
| Version | Downloads | Last updated | Status |
| --- | --- | --- | --- |
| Centipede (Portable) 2011.09.19 | 259 | Friday, October 20, 2017 | approved |
Discussion for the Centipede (Portable) Package
Ground rules:

This discussion is only about Centipede (Portable) and the Centipede (Portable) package. If you have feedback for Chocolatey, please contact the google group.
This discussion will carry over multiple versions. If you have a comment about a particular version, please note that in your comments.
The maintainers of this Chocolatey Package will be notified about new comments that are posted to this Disqus thread, however, it is NOT a guarantee that you will get a response. If you do not hear back from the maintainers after posting a message below, please follow up by using the link on the left side of this page or follow this link to contact maintainers. If you still hear nothing back, please follow the package triage process.
Tell us what you love about the package or Centipede (Portable), or tell us what needs improvement.
Share your experiences with the package, or extra configuration or gotchas that you've found.
If you use a url, the comment will be flagged for moderation until you've been whitelisted. Disqus moderated comments are approved on a weekly schedule if not sooner. It could take between 1-5 days for your comment to show up.
comments powered by

Disqus