247
Downloads of v 2012.07.08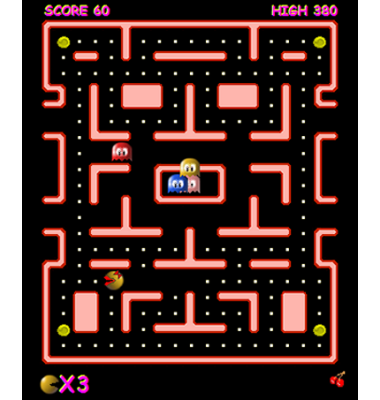 **** MSpacman nes style with 2 extra levels ****
This game is Freeware
MsPacman
written by PJ Crossley 2007
Based on the MsPacman Arcade Game
Goal
The goal of this game is to Get the highest score by removing all dots with MsPacman. Ghosts will try to stop you so you should avoid them.
The large Pills will help you . When you eat one of those the ghosts temporarily become afraid and can be chased for extra points but beware they get weaker with each level completed until they will not work at all. Touch a ghost whille they are afraid to get more points and they will turn into eyes and head for the prison.
You can collect any bonus that appears for extra points.
100=cherry
200=strawberry
500=orrange
700=pretzel
1000=apple
2000=pear
5000=bannana
Playing
you can use a joystick or You steer MsPacman using the arrow keys. You can press the correct key before you reach the corridor (but keep it pressed).
Press P to Pause game
Levels
The game has four levels with diffrent mazes .
complete level one twice
complete level two three times

complete level three and level four times

Press F12 at startup for a game of the original pacman.

press F8 for three different room scales
Press F9 at startup to change resolution to 640X480
More free games at http://pjsfreeware.synthasite.com/
GM829/05/12
To install Ms Pacman NES (Portable), run the following command from the command line or from PowerShell:
C:\> choco install mspacmannes
To upgrade Ms Pacman NES (Portable), run the following command from the command line or from PowerShell:
C:\> choco upgrade mspacmannes
Files
Hide
Virus Scan Results
Dependencies
This package has no dependencies.
Package Maintainer(s)
Software Author(s)
Copyright
PJ Crossley
Tags
Version History
| Version | Downloads | Last updated | Status |
| --- | --- | --- | --- |
| Ms Pacman NES (Portable) 2012.07.08 | 247 | Saturday, October 21, 2017 | approved |
Discussion for the Ms Pacman NES (Portable) Package
Ground rules:

This discussion is only about Ms Pacman NES (Portable) and the Ms Pacman NES (Portable) package. If you have feedback for Chocolatey, please contact the google group.
This discussion will carry over multiple versions. If you have a comment about a particular version, please note that in your comments.
The maintainers of this Chocolatey Package will be notified about new comments that are posted to this Disqus thread, however, it is NOT a guarantee that you will get a response. If you do not hear back from the maintainers after posting a message below, please follow up by using the link on the left side of this page or follow this link to contact maintainers. If you still hear nothing back, please follow the package triage process.
Tell us what you love about the package or Ms Pacman NES (Portable), or tell us what needs improvement.
Share your experiences with the package, or extra configuration or gotchas that you've found.
If you use a url, the comment will be flagged for moderation until you've been whitelisted. Disqus moderated comments are approved on a weekly schedule if not sooner. It could take between 1-5 days for your comment to show up.
comments powered by

Disqus