583
Downloads of v 3.9.0.0
---
To use choco:// protocol URLs, install (unofficial) choco:// Protocol support
---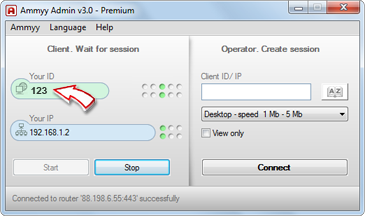 Zero-Config Remote Desktop Software Ammyy Admin. The easiest way to establish remote desktop connection.
You can easily share a remote desktop or control a server over the Internet with Ammyy Admin. No matter where you are, Ammyy Admin makes it safe and easy to quickly access a remote desktop within a few seconds.
Ammyy Admin is used by more than 75 000 000 personal and corporate users.
Remote desktop connection becomes easy with Ammyy Admin.
ATTENTION! Please read this before giving UNKNOWN people access to your computer
System Administration
You can manage network computers and servers remotely without complicated NAT settings adjustments or Firewall problems. Assist your colleagues with remote access software and be confident all the transmitted data is reliably secured. Using Ammyy Admin as a tool for remote desktop connection and control is the best way to save time and money.
Learn more about remote system administration
Remote office
You will have quick and easy access to your remote office PC desktop via the Internet from anywhere, at any time. Remote desktop access makes it easy to retrieve necessary documents and files from your work PC or activate specific software installed on the office computer. Ammyy Admin is also a perfect solution for enabling employees to work offsite from a remote location.
Learn more about remote office
On-line presentations/distance education
With Ammyy Admin it's easy to arrange on-line presentations or hold virtual classes for distance education. You can host your presentation featuring class materials right in the remote desktops of meeting participants or students in the virtual classroom, communicating with them via real-time voice chat.
Learn more about on-line presentations and distance education
---
Click here to Patreon-ize the package maintainer.
---
To install Ammyy Admin (Portable), run the following command from the command line or from PowerShell:
C:\> choco install ammyy-admin
To upgrade Ammyy Admin (Portable), run the following command from the command line or from PowerShell:
C:\> choco upgrade ammyy-admin
Files
Hide
Virus Scan Results
Dependencies
Package Maintainer(s)
Software Author(s)
Copyright
Copyright © Ammyy. All rights reserved.
Tags
Release Notes
http://www.ammyy.com/en/press.html
Version History
| Version | Downloads | Last updated | Status |
| --- | --- | --- | --- |
| Ammyy Admin (Portable) 3.9.0.0 | 583 | Tuesday, March 26, 2019 | approved |
| Ammyy Admin (Portable) 3.8.0.0 | 228 | Saturday, February 9, 2019 | approved |
| Ammyy Admin (Portable) 3.7.0.020181004 | 460 | Friday, October 5, 2018 | approved |
| Ammyy Admin (Portable) 3.5.6 | 768 | Saturday, September 2, 2017 | approved |
| Ammyy Admin 3.5 | 605 | Saturday, April 16, 2016 | approved |
Discussion for the Ammyy Admin (Portable) Package
Ground rules:

This discussion is only about Ammyy Admin (Portable) and the Ammyy Admin (Portable) package. If you have feedback for Chocolatey, please contact the google group.
This discussion will carry over multiple versions. If you have a comment about a particular version, please note that in your comments.
The maintainers of this Chocolatey Package will be notified about new comments that are posted to this Disqus thread, however, it is NOT a guarantee that you will get a response. If you do not hear back from the maintainers after posting a message below, please follow up by using the link on the left side of this page or follow this link to contact maintainers. If you still hear nothing back, please follow the package triage process.
Tell us what you love about the package or Ammyy Admin (Portable), or tell us what needs improvement.
Share your experiences with the package, or extra configuration or gotchas that you've found.
If you use a url, the comment will be flagged for moderation until you've been whitelisted. Disqus moderated comments are approved on a weekly schedule if not sooner. It could take between 1-5 days for your comment to show up.
comments powered by

Disqus