Modern Software Automation
Chocolatey for Business
Automate your entire Windows Software Lifecycle
Automate software install, upgrade, and removal on Windows OS
Accelerate rollout and simplify software management
Reduce time spent on software management by 90%
Learn More
Purchase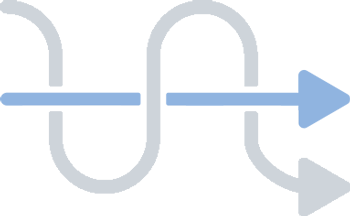 There are a lot of different installer formats and multiple approaches to deploying Windows software. Deploying software without package management on Windows can be complicated and time-consuming.
Chocolatey simplifies this through simple, repeatable, and automated approach, by using a universal packaging format for managing all Windows software. Regardless if installers are; native, zips, scripts, binaries or in-house developed - Chocolatey treats them as all 1st class citizens.
Write once, deploy anywhere, with anything, and then simply track & manage.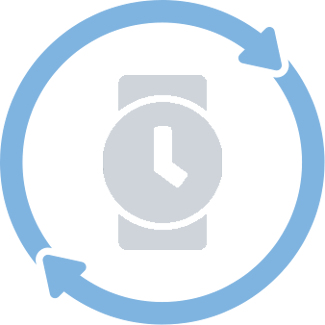 System engineers can spend hours deploying & configuring Windows software manually. Traditional tools are just not built for modern automation and a DevOps approach. Gaining insights and consistency across your environment is not always easy.
Chocolatey for Business (C4B) has helped hundreds of system admins save time, reduce downtime, and accelerate deployments.
Chocolatey for Business (C4B) is Complete Software Management. Built on our popular open source offering.
Focused on three value-added areas; improved security, enhanced productivity features, and enabling more visibility. All backed with dedicated support, services, & roadmap
Closely aligned to organizational use cases - rapid deployment & highly scalable
More visual interfaces (GUIs) & smoother user experience
Special advanced functionality i.e Package Creation, Package Internalizer, Package Audit, Package Synchronizer, Self-Service Installer
Easy migration path from open source
Deep integration with leading technologies
Real-time Insights with Chocolatey Central Management
Full package visibility
Installed software packages
Status reporting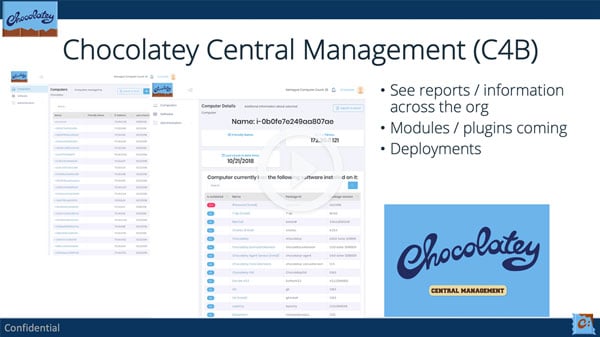 Accelerate Deployments & Reduce the Effort
Automate your Windows Package Management Workflow
Build and deploy packages in seconds
Automate updates and integrate with DevOps tools
Build a private repository of packages
Quick Deployment Environment (QDE) simplifies set-up with ready to go virtual appliance
Improve Security & Controls
Offline & secure
Identify out of date packages fast
Package audit & detailed reporting
Integrate with virus scanning & malware protection tools
Integrates with Everything
Tight provider based integration with all configuration management tools
Integration with leading repositories, patch management, and software monitoring solutions
Self-Service & Enhanced User Experience
Simple approach to ensuring software is deployed to users with no 'admin rights' or in highly regulated & locked down environments
User-friendly, consistent, reliable approach without the need manual intervention
Central management and control aligned to organizational policies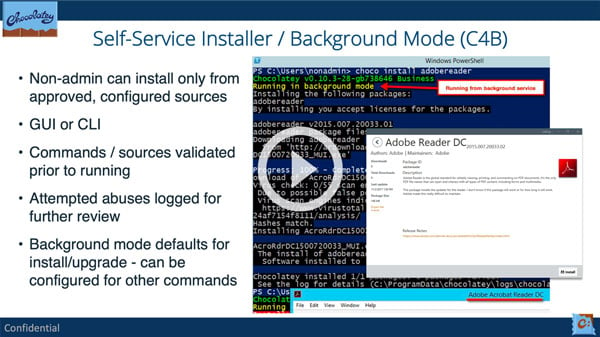 Previous
Next
Businesses Trust Chocolatey Software
Many organizations face the ongoing challenge of deploying and supporting various versions of software. Chocolatey allows organizations to automate and simplify the management of their complex Windows environments. Our customers have experienced a massive reduction in effort, improved speed of deployment, high reliability, and comprehensive reporting.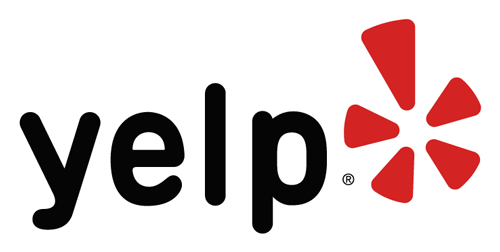 Ryan de Temple
Client Platform Manager at Yelp
We wanted to make sure our user experience was seamless. We wanted to provide a service, software, configuration- without user intervention, without restarts... Chocolatey allowed our engineers to build the products, to build the pipeline and deliver just that.

Mike Lombardi
Software Engineer at Puppet
The single biggest thing I love about Chocolatey has to be the ease of use and reusablility. That has made all the difference for me. I don't have to remember 37 different ways to interact with my software... just the one- and that's it!
Previous
Next
Generate Software Deployment Packages in Seconds
Creating packages manually is time-consuming, error-prone, and inconsistent
Package Builder automatically creates high-quality packages from an installer/zip in seconds
Determining silent arguments based on installer type, with complete customization
Supports exe, msi, 7z, zip, msu, and msp files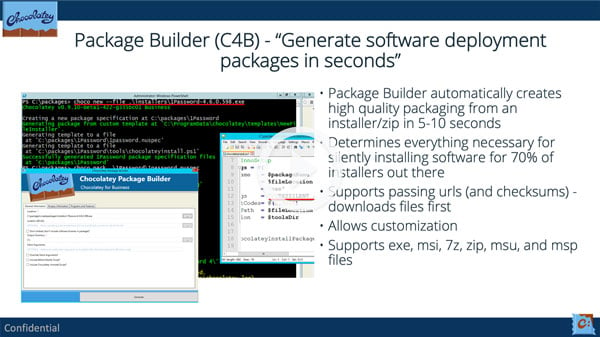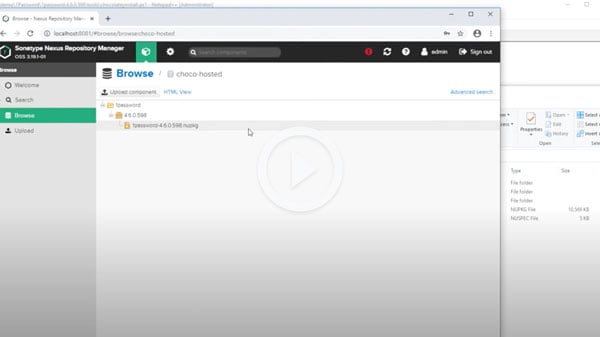 Convert Community Packages to 100% Offline & Reliable Use
Chocolatey community offers over 7,500 packages; however, those packages require external sources for software binaries from vendor servers at runtime
Take advantage of thousands of existing packages without reliance on the Internet
Package Internalizer downloads an existing package and all remote resources, and recompiles package to use those resources internally
Offers the ability for you to host packages on private internal repositories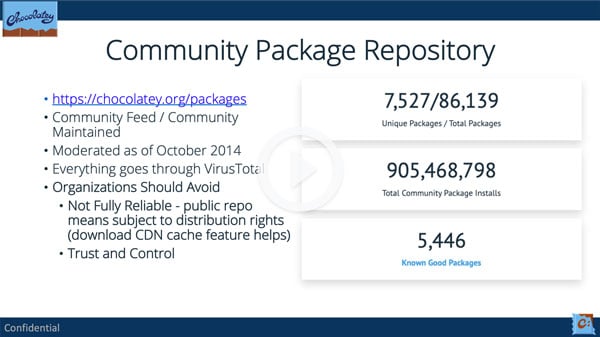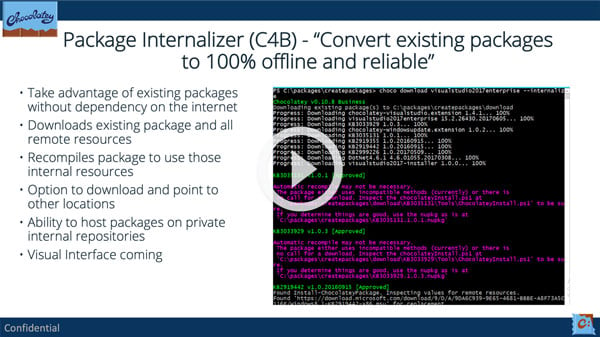 Real-Time Insights
Getting a real-time snapshot of packages and deployments is not always easy
With CCM you can bring software visibility to the organizational level
Quickly see all software packages across the organization and see what needs attention immediately
Generate reporting from views in PDF and Excel format
Deployments enable teams to securely manage endpoints w/PowerShell scripts and states of Chocolatey packages directly. The CCM web interface helps with easy set-up, management, and reporting on deployments to endpoints.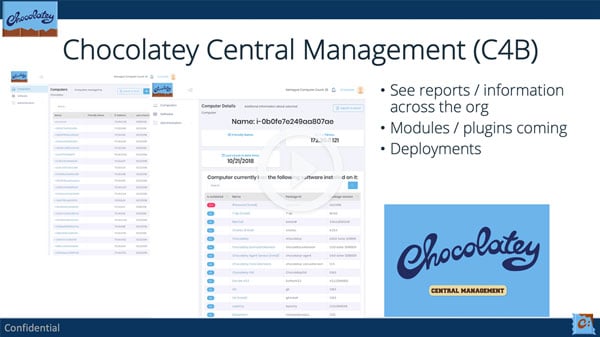 Empower Your User Base While Maintaining Security Policies
Ensuring software is deployed and updated to users with no 'admin rights', or in highly regulated locked-down environments, is a challenge
C4B provides organizations the power to easily offer their users an interface to install and upgrade software
Offering a user-friendly, consistent, reliable approach without the need for manual intervention
C4B installation is completely locked down so non-administrators cannot make changes to configurations. Attempted abuses can be logged and audited.
Ability to customize with company logo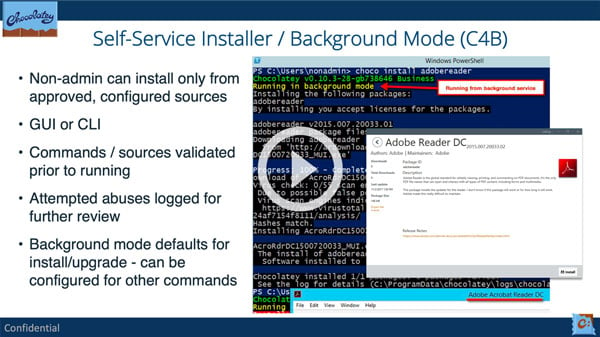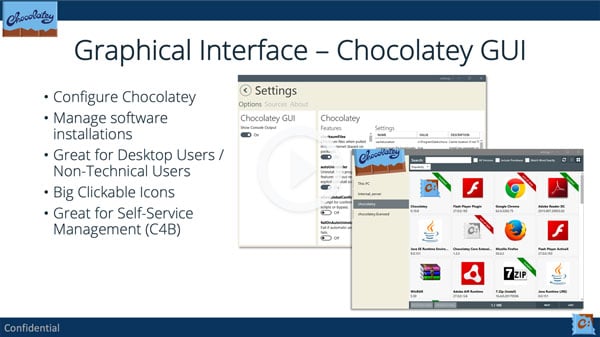 Improve Accuracy & Simplify Software Management
Gaining visibility beyond just the software 'installed' in Programs & Features can be very difficult
C4B easily brings all software in Programs and Features under Chocolatey management
Package Synchronizer ensures accurate inventory and enables easier management of complex Windows systems
Auto-synchronization allows you to uninstall directly from Programs and Features, as it detects when changes have occurred outside of Chocolatey (ie Programs & Features), and updates the Chocolatey package inventory accordingly
Track versions of zip archives & your own internal software that is not traditionally visible in system installation
Sync command brings all software on a system under Chocolatey management, allowing you to manage upgrades more consistently
Show all packages (even those without native installations) in Programs and Features, allowing you to capitalize on existing legacy inventory reporting systems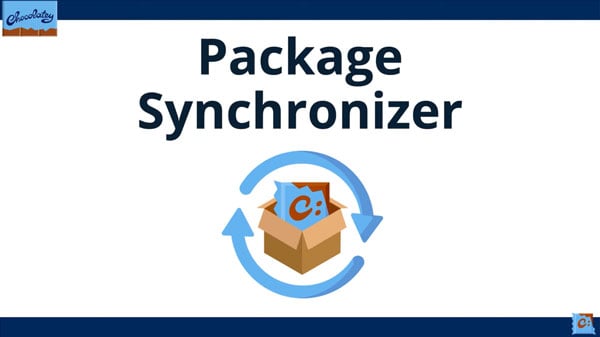 Inventory - Comprehensive Software Audit
Gain insights on what was installed, by whom, and when
Easily identify Out-of-Date Software
Identify package upgrades to target on next scheduled maintenance window
Automatically Optimize Your Deployments
Package Reducer helps to ensure the space that Chocolatey uses on a system stays minimal
Automatic self clean-up after package installation
Substantial package size reduction to enable to reduce footprint on endpoints
Sign Up for a Demo
Not quite ready to buy? Let our team demo Chocolatey for Business to you.